IT'S A FAMILY TRADITION
We are a third-generation family business operating in Montrose for over 100 years; providing the community with the freshest seafood, meats & produce, as well as an extensive array of gourmet groceries. We are one of Westchester's last markets to have butchers on-site!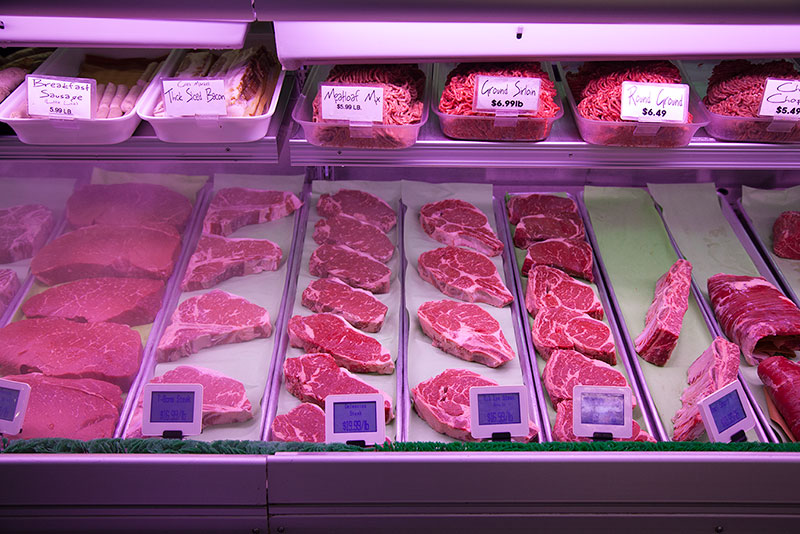 We Are Famous For Our 100% Pure Beef Hamburgers, But We Also Have a Large Selection Of Steaks & Roasts, Fresh Chicken (Whole, Parts, Roasters), Lamb, Pork And Veal.
Try One Of Our 10 Varieties Of Sausage – (**All Made On Premises and with NO PRESERVATIVES) Sweet, Hot, Broccoli Rabe, Chicken, Cheese & Parsley, Broccoli & Cheddar, Sundried Tomato & Basil, Jalapeno Chicken, Chicken Sundried Tomato and Scallion, Bratwurst.
Some Of Our Specialties Include Stuffed Pork Roasts; Shish Kabobs (Beef, Lamb, Chicken, Shrimp, Swordfish), Stuffed Pork Chops, Chicken Breast, Cornish Hens, Stuffed Chicken Breast (Cordon Blue, Spinach, Apple Stuffed), Marinated Steaks, Stuffed Mushrooms.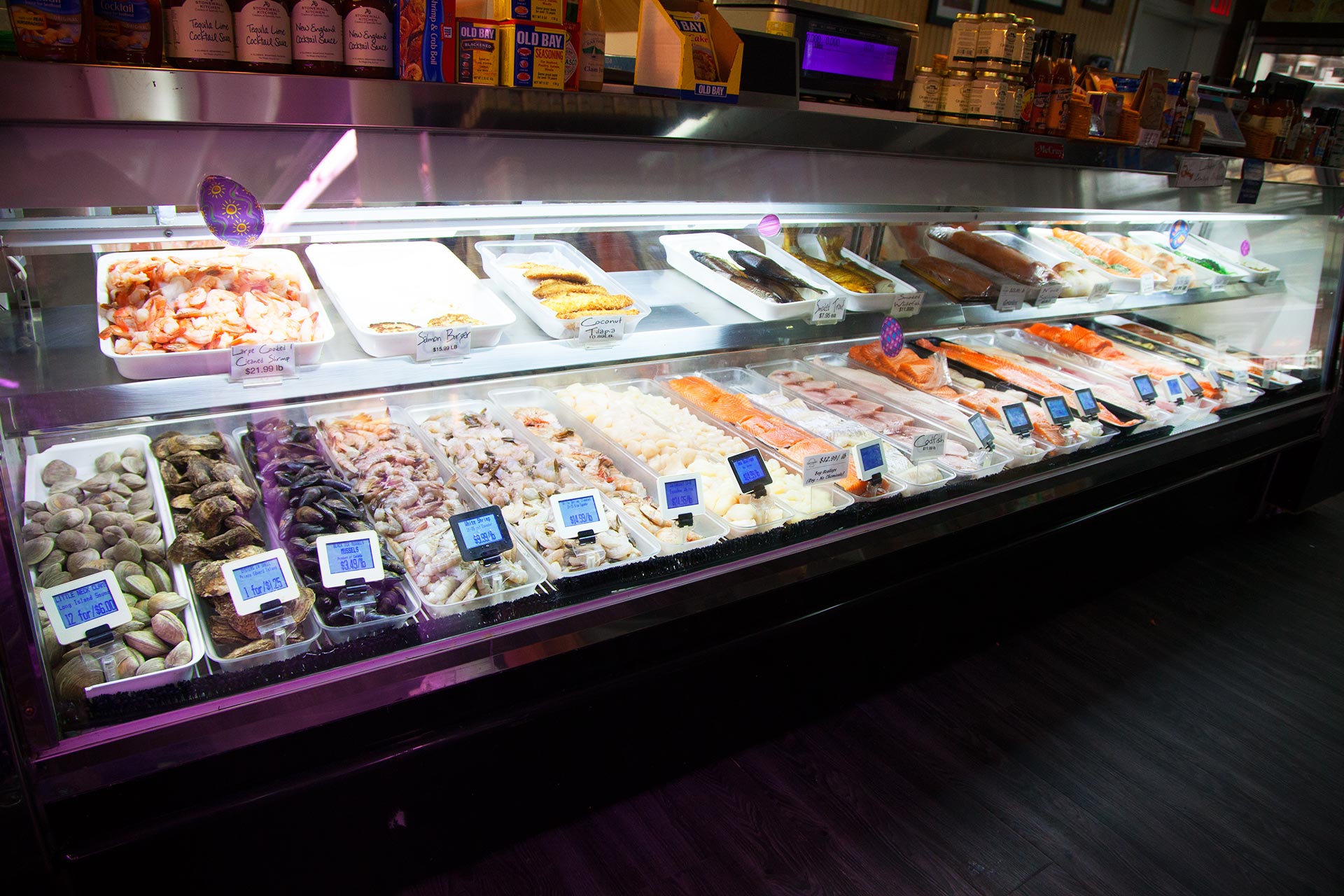 We Get A Fresh Fish Delivery Every Day – Including, But Not Limited To, Flounder, Cod, Swordfish, Tuna, Tilapia, Scallops and Halibut
Shrimp (Many Sizes), Clams, Mussels, Crabmeat, Fresh Lobsters and Oysters Available (Please Call To Check Availabilty)
Frozen Lobster Tails and King Crab Legs Are Always On Hand
Some Of Our Specialities Include: Coconut Shrimp, Coconut Tilapia, Stuffed Filet Of Sole, Breaded Scallops, Baked Fish, Crabcakes, Stuffed Shrimp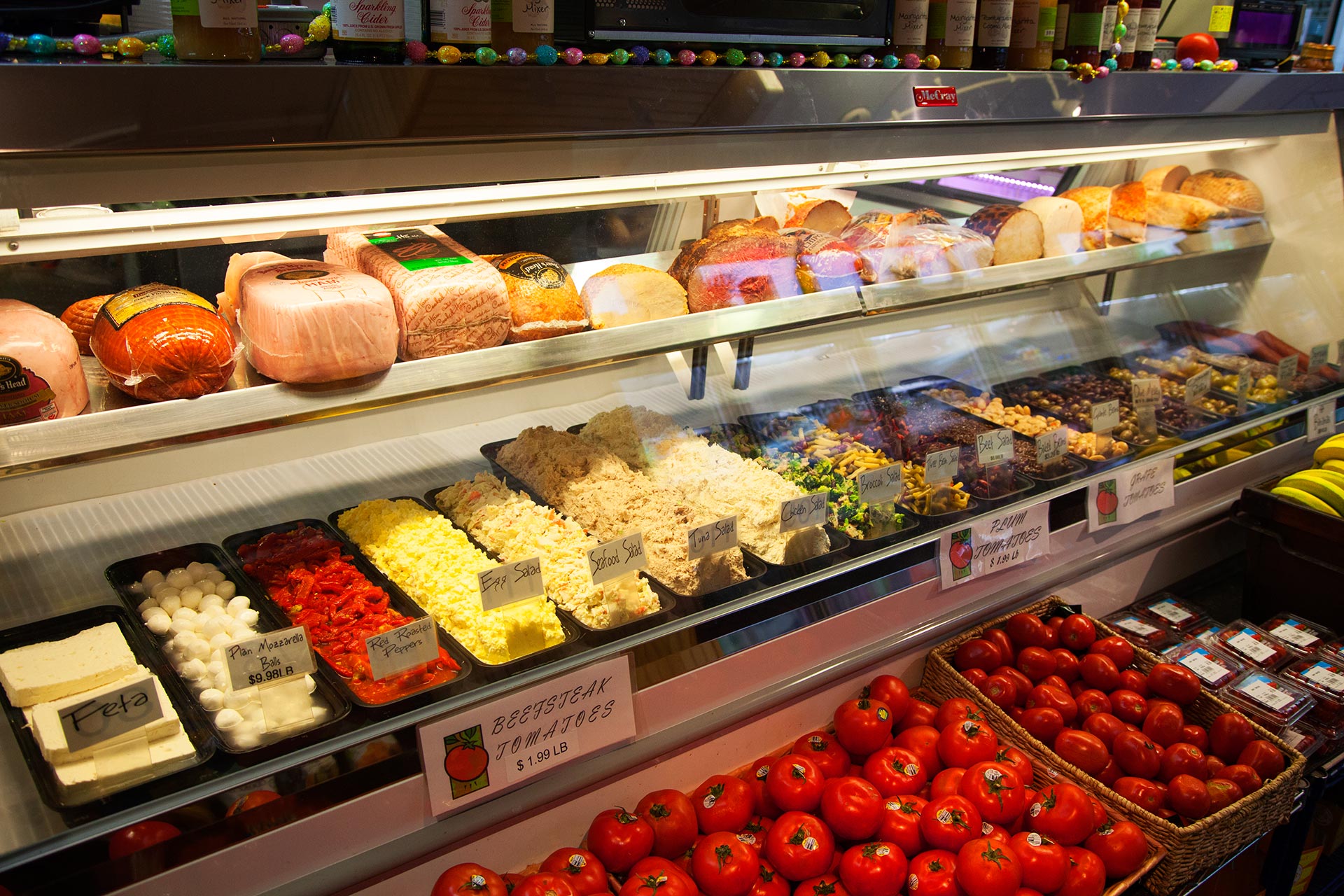 We Have A Large Selection Of Cold Cuts, With"Our Own" Roast Beef & Turkey.
All Of Our Cold Salads Are Prepared Fresh Daily
"Heat And Serve Items"
Lemon Dill Salmon, Meatballs, BBQ Ribs, Lasgna, Baked Ziti, Portabello Stacks, Grilled Vegetables, Green Beans Almondine, Etc!
Hot Dinner Available Monday – Friday
Call In Advance For the
"Dinner Of The Week.
Hours
Monday-Saturday: 10AM–6PM
Sunday 9AM–2PM
Cole's Market was established as a General Store in about 1890-mostly a candy store, with groceries, newspapers, and beverages. The first owner was Dorlen T. Cole (Great Grandfather of Tom and Tricia Cole who own and operate the business today). He ran the store with his Wife until 1949, when Dorlen's son, David E. Cole, Sr., and his wife, Mary Edith, took it over. They ran the store until 1966 when David Cole, Sr. passed away. It was then run by Tom Cole Sr., Albert Cole, and their mother, Mary Edith. Meats were introduced to the store around 1970. The property was turned over to Tom Cole, Sr. in 1983. Tom Cole, Jr. had been running the business with his father since about 1984 and is credited with establishing the store's catering department. Tricia, Tom's sister, came on board in August 1999, followed By Tricia's husband, Joe Delamater, the chef, in about 2004. Since the passing of Tom Cole, Sr., Tommy and Tricia manage the business together.
Cole's prides itself on being family and community oriented.
Roll $9.95  Wedge/Wrap $11.95
Chicago Reuben
Roast Beef, Swiss, Cole Slaw, Russian
The Napa
Honey Turkey, Cheddar, Honey Mustard,
Lettuce & Tomato
Valencia
Breaded Chicken Cutlet, Roasted Peppers, Mozzarella,
Pesto Mayonnaise
Cuban
Ham, Turkey, Melted Provolone, Pickles, Chipotle Mayo
Kings Ferry Combo
Roast Beef, Roasted Peppers, Cheddar, Horseradish Mayo
The Route 9a
Breaded Chicken Cutlet, Bacon, Muenster, Horseradish Sauce
Holy Cow
Roast Beef, Muenster, Onions, Horseradish Sauce
Venetian
Breaded Eggplant, Mozzarella, Red Peppers,
Lettuce & Tomato, Balsamic
Dana's Deluxe
Roast Beef, American/ Swiss/ Mozz/ Provolone &
Onions, Toasted Garlic Roll
Chicken Cutlet BLT
Breaded Chicken Cutlet, Bacon, Lettuce & Tomato
Lean & Mean
Corned Beef, Swiss, Sauerkraut
Pastrami Reuben
Pastrami, Sauerkraut, Swiss
Chicken Cordon Blue
Chicken Cutlet, Ham, Swiss, Mozzarella
Thanksgiving Turkey
Fresh Turkey, Apple Stuffing, Cranberry Mayo
Italian Combo
Genoa, Capicola, Pepperoni, Provolone, Lettuce,
Tomato, Onions, Hot Peppers, O&V
Ranchero
Chipotle Chicken, Bacon, Avocado, Cheddar,
Lettuce, Tomato, Chipotle Mayo
Marcello
Grilled Chicken, Broccoli Rabe, Provolone,
Balsamic Vinegar
Vegan
Grilled Vegetables, Roasted Peppers
Classic Sandwiches, Salads & Breakfast
Roll $8.00   Wedge / Wrap $10.00
Roast Beef (Addt'l $1)
Turkey
Natural Turkey
Honey Turkey
Smoked Turkey
Chicken Breast
Buffalo Chicken
Chipotle Chicken
Genoa Salami
Pepperoni
Cappicola Ham
Pastrami
Corned Beef
Boiled Ham
Virginia Ham
Bologna
Liverwurst
Extras
Tomato, Lettuce, Onions
.50 roll /1.00wedge
Hot Peppers
1.00/2.00
Roasted Peppers, Avocado, Sundried Tomato or Broccoli Rabe
2.00 roll / 3.50 wedge
Cheese
American, Swiss, Muenster, Provolone,
Asiago, Pepper Jack, Mozzarella
1.00/1.50
Wraps – Plain, Wheat, Spinach
Tomato & Basil, Herb & Garlic
*Gluten Free Available – Plain Only*
Fresh Salads
Garden Salad
Chef Salad
English Salad
Blue Cheese, Craisins, Walnuts
Raspberry Vinaigrette
Greek Salad
Grilled Chicken, Feta, Kalamata Olives
Add A Scoop of One of Our
Fresh Cold Salads!
(Tuna, Chicken, Seafood, Egg)
Cold Salads
Chicken Salad
$10.99lb
Tuna Salad
$9.99lb
Egg Salad
$9.99lb
Seafood Salad
$9.99lb
Side Salads

Potato, Macaroni, Cole Slaw, Baked Beans, Tomato & Mozzarella, Tomato & Cucumber, Tortellini, Pasta, Broccoli, Southwestern Potato, Red Potato & Egg, Red Potato & Dill, Grilled Vegetable, Three Bean, Orzo Salad, Summer Bean, Gigande Beans,, Corn & Black Bean
**Please Check Availability Daily**
Bagel
.99ea
with Butter 1.99tx
With Cream Cheese 2.99tx
With Lox 12.95tx
Buttered Roll
1.50tx
Holiday Favorites
Stuffed Mushrooms
9.99lb
Stuffed Clams
3ea
Fresh Fruit & Cheese
sm 4 9 lg 69
Coconut Shrimp
31.99lb
Poached Salmon
99/one side
Shrimp Platters
(2lb Minimum) 28.99lb
Cold Antipasto Platter
sm 54 lg 94
Crab Cakes
Market Price Fresh
Vegetable Crudité
sm 44 lg 64
Crab Dip Spread
sm 34 lg 49
Wild Mushroom Risotto Cakes
49 ½ Tray
Tossed Salad Garden, Mesclun, Spinach
1.55pp
Artisan Breads
Raisin Walnut, Semolina, Terranova, Ciabatta, Whole Wheat or White Baguette (must be ordered/paid for in advance)
Holiday Orders Must Be Placed At Least 5 Days Before The Holiday
From The Butcher
(Raw, Uncooked Items)
Fresh Turkeys – all Sizes
Boneless Turkey Breast
Capons
Ducks
Goose
Leg Of Lamb
Rack Of Lamb
Crown Roast Of Lamb
Honey Ham
Smoked Ham
Crown Roast Of Pork
Pork Loin
Roast Prime Rib
Roast Filet Mignon
Cross Rib Roast
***All Market Price***
Seafood
King Crab Legs
Lobster Tails
Fresh Shrimp
Scallops
Flounder
Halibut
Cod
Shrimp
Lump Crabmeat
**Cooked Main Courses Available On Our Catering Menu**
Side Dishes
(Cooked, reheat only) (1/2 Trays – serves 10 -12p – Full Trays Available)
Roasted Beets
34
Roasted Root Vegetables Rutabaga & Turnips
34
Honey Roasted Carrots
32
Potatoes Gratin
34
Red Rosemary Potatoes
34
Candied Sweet Potatoes
34
Harvest Mix
Sweet Potato, Butternut Squash, Raisins, Almonds, Apricots
34
Green Bean Almondine
34
Grilled Veggies
37
Stuffed Potatoes
Sour Cream, Bacon/ Cheddar
(3.50), Sweet (4.00)
Classic Lasagna
Cheese, Meat, or Veggie
49
Items To Compliment Your Dinner
Apple or Herb Stuffing
6.99lb
Turkey, Beef, Lamb, or Pork Gravy
9.99qt
Assorted Quiche 1 4.95ea / Cranberry Sauce 5.99
STARTERS
Fresh Vegetable Crudite  Sm 44 Lg 64*
Assorted Fresh Vegetables & Vegetable Dip
Fruit & Cheese Platter Sm 49 Lg 69*
Fresh Cut Seasonal Fruit, Assorted Cheeses, Crackers
Antipasto Platter Sm 54 Lg 94*
Genoa, Pepperoni, Artichokes, Sopressata, Prosciutto, Marinated Peppers, Mozzarella, Olives
Shrimp Platter 28.99lb (2lb Min)*
Peeled & Deveined Large Shrimp, Cocktail Sauce, Lemons
Crab Dip Sm 34 Lg 49*
Cream Cheese & Crab Spread With Cocktail Sauce & Crackers
Nova Salmon Platter 99 (One Size)*
Eggs, Onions, Cucumbers & Capers
Tuna Sashimi 99
Yellow Fin Tuna, Chili Dusted & Seared, Seaweed Salad, Tamari & Wasabi Sauce
Wild Mushroom Risotto Cakes 49/ 1/2 Tray
Creamy Risotto, Mushrooms, Fried Golden
Mini Crab Cakes Market Price Market Price
Real Maryland Lump Crab
Buffalo Wings 49/ 1/2 Tray*
Mild or Hot & Spicy
Wing Dings 59/1/2 Tray
Breaded Chicken Wings
Swedish Meatballs 49/1/2 Tray
Bite Size Meatballs In A Sour Cream Gravy
Coconut Shrimp 31.99/lb
Coconut Crusted Shrimp, Ginger Orange Dipping Sauce
Thai Chicken Sate' 59/1/2 Tray
Skewered & Grilled with Peanut Sauce
Macaroni & Cheese Bites 49/1/2 Tray
Bite Sized
Assorted Hors d'oeuvres 7.95 per person
**Staffed Parties Only – Choice of 4 – Min 20 People
Pigs In The Blanket, Cheese Puffs, Mini Quiche, French Brie & Apricot, Chicken Quesadillas, Asian Spring Roll, Beef Wellington
BREAD 1.45 per person
Mixed Dinner Basket or Bastone & Baguette Basket, butter
SALAD 1.55 per person (Minimum 20)
Tossed Garden Salad – Iceberg, Romaine, Red Leaf, Tomato, Cucumber, Peppers
Mesclun Salad – Mesclun Greens, Tomato, Cucumbers, Peppers
Spinach Salad – Baby Spinach, Mushrooms, Bacon
English – Mesclun Greens, Tomato, Cucumber, Craisins, Blue Cheese, Walnuts
All Salads Include Choice of 2 Dressings: Ranch, Italian, Balsamic, Blue Cheese, Honey Dijon, Russian **Add Crumbled Blue Cheese, Feta, or Goat Cheese To Any Salad .40 per person
MAIN COURSE
Chicken Francaise 99
Boneless Chicken, Batter Dipped & Lemon Sauce
Chicken Marsala 99
Boneless Chicken, Sautéed With Mushrooms & Marsala
Chicken Florentine 99*
Boneless Chicken, Oven Roasted Tomatoes, Spinach, Smoked Mozzarella, Thyme
Thai Chicken 99
Fried Chicken, Hoisin, Snow Peas, Carrots, Pickled Ginger, Chili Paste, Peanuts
Chicken Leone 99
Boneless Chicken, Layered With Prosciutto, Spinach, Roasted Peppers, Mozzarella, Cream Sauce
Turkey Breast with Stuffing 109
Turkey Breast- boneless, sliced, apple stuffing, gravy
Loin of Pork 99*
Boneless Loin of Pork, Apple Bacon Caramelized Onion Compote
Asian Flank 109
Flank Steak In A Unique Asian Grilling Sauce, Over White Rice
Filet Mignon – Market Price*
Tender Sliced Black Angus Filet, Cold, Plattered
Beef Bourguignon 109
Braised Sirloin in a Red Wine Sauce, Topped With Puffed Pastry
Beef Brisket 109*
Slow Braised, Red Wine Demi, Beef Stock
Penne With Pink Pepper Sauce 89*
Penne Pasta With Our Own Pink Vodka Sauce (No Meat)
Orecchiette Broccoli Rabe 79*
Chorizo, Broccoli Rabe, Sundried Tomatoes, Garlic & Oil
Lobster Macaroni & Cheese 99*
Our Own Mac & Cheese With Fresh Chunks Of Lobster Fusilli
Shrimp & Scallops 99*
Fusilli Shrimp & Scallops & Broccoli, Cream Sauce
Baked Salmon 109
Lemon Dill Sauce
Poached Salmon 109* (No Half Sizes)
Garnished With Cucumbers, Horseradish Sauce, Served Cold
Shrimp Scampi 99*
Garlic, Tomato, White Wine, ½ Scampi – ½ White Rice
Eggplant Rollatini 89
Rolled Eggplant, Mozzarella, Ricotta Cheese & Marinara
Italian Meatballs 89
Fresh Homemade Meatballs, Served in Our Own Red Sauce
Sausage & Peppers 89*
Fresh Sausage Made On Premises With Peppers & Onions
**Price Indicated is For a Full Tray – ½ Sizes Available**
SIDES
Grilled Vegetables 69*
Zucchini, Carrots, Red Peppers & Squash, Garlic & Oil
California Mixed Vegetables 59*
Broccoli, Cauliflower, Carrots, Garlic Butter
Green Bean Almondine 59*
Whole Green Beans with Butter & Almonds
Honey Roasted Carrots 59*
Slow Roasted With Honey & Shallots
Rice Pilaf 59*
Basmati Rice, Julienne of Carrots
Potato Gratin 69*
Sliced Potatoes In A Parmesan Cream
Red Rosemary Potatoes 69*
Oven Roasted With Rosemary & Olive Oil
Parmesan Potatoes 69*
Sliced Yukon Gold Potatoes, Parmesan & Butter
GIANT WEDGES
Choose From:
Italian – Capicola, Genoa, Pepperoni, Provolone
American – Roast Beef, Turkey & American Cheese
16/per Foot *Mesclun Lettuce & Tomato Are On The Wedge
Custom Wedges: Eggplant, Roasted Peppers, Fresh Mozzarella Chicken Cutlet, Roasted Peppers, Fresh Mozzarella Turkey BLT Grilled Vegetables & Fresh Mozzarella
18/per Foot Or Create Your Own!
COLD CUT PLATTER
Roast Beef, Turkey, Ham, Genoa, Pepperoni, American Cheese, Swiss Cheese 69/ Serves 15 – Includes 18 Hard Rolls, Mustard & Mayonnaise **NO HALF SIZES
MINI GOURMET SANDWICHES (Minimum 20p)
Assortment of Turkey, Roast Beef, Honey Ham, Chicken Salad, Eggplant/RRP/Mozzarella on French & Whole Wheat Baguettes 5.99 pp~ Add Wraps–6.99pp ~ Wraps Only – 9.95pp (base price)
COLD SALADS
Macaroni, Cole Slaw, Potato, Baked Beans, Red Potato & Egg, Tortellini, Three Bean, Cucumber & Tomato, Pasta, Southwest Potato, Red Potato & Dill, Carrot & Raisin, Broccoli, Potato/Bacon/Green Bean, Orzo, Tomato & Mozzarella (Prices Vary)
*Items With an Asterisk Can Be Prepared Gluten Free*
FOR THE KIDS
Chicken Fingers 89
Macaroni & Cheese 79
Pigs In The Blanket 99
DESSERTS
Italian Mini Pastries 26/lb
Assorted Butter Cookies 21/lb
Mini Cupcakes 2.00ea
Fruit Arrangement 89
Fruit Salad 9.99/lb
Brownies 3.50ea
Special Occasion Cakes Available
BEVERAGE SERVICE
Coffee & Tea Service Includes: Regular Coffee, Hot Water for Tea, Disposable Cups, Milk & Sugar 1.65 per person / Min 20
Mixed Soda, Water (Includes Cups & Ice) 2.99 per person
TABLEWARE
Disposable Plastic Dinner Plate, Dinner Fork, Dinner Knife, Spoon, Dessert Plate, Dessert Fork, Disposable Napkin 1.25 per person (White Only) Basic White China Available with Service Staff Dinner Plate, Dinner Fork, Dinner Knife, Spoon, Dessert Plate, Dessert Fork, Linen Napkin
Hamburgers/Cheeseburgers, Hot Dogs, Macaroni & Cheese, Corn on The Cob, Tossed Salad with Dressings, Mixed Bread Basket, Coffee & Tea Service, Watermelon
In Addition, You choose:
One Chicken Entree
Boneless BBQ, Lemon Teriyaki, Mesquite & Herb Smoked, Honey Mustard Grilled, Lemon Herb Grilled
One Meat Entree
BBQ Pork Spare Ribs, Pulled Pork, Sirloin K. Bobs, Butterflied Leg of Lamb, Marinated London Broil, Chili, Honey Sesame Marinated Pork Loin
3 Summer Salads
Tomato & Cucumber, Tomato & Mozzarella, Broccoli, Three Bean, Pasta Salad, Orzo Salad, Tomato & Onion, Tortellini, Red Potato & Egg, Marinated Mushroom, Potato Salad, Macaroni Salad, Baked Beans, Southwestern Potato Salad, Potato/Green Bean/ Bacon Salad, Cole Slaw
Also Included;
Condiments, Disposable Utensils (white Heavyweight Plastic), Gas Grills, Buffet Tables, Food Tents, 4 Hours of Service,
Does NOT Include Beverages or Guest Seating
Final Count Due 3 Days Prior To Event
40 Person Minimum
20% Deposit To Hold The Date
Adults – $35.99pp + Tax & Gratuity
Children (Under 12) – $17.95pp + Tax & Gratuity
3 and Under – No Charge
*Upgrade Your BBQ with Steak, Lobster Tails or Steamed Clams*
Add Brownies, Pastries, Cookles or A Special Occasion Cake
Please Note That This Is A Per Person Price For The Consumption Of Food At The Time Of The Event Any ·Extra· Food Is Distributed At The Discretion of The Coles Market Staff
Fresh Fruit Platters
Scrambled Eggs
Country Sausage
Bacon
Home Fries
Pancakes / Syrup
Assorted Quiche
Bagels – Cheese, Jellies & Butter
Assorted Mini Muffins
Mini Gourmet Sandwiches
Juices – Orange, Apple & Cranberry
Coffee Service – Regular Coffee & Hot Water
Disposable Utensils
Includes Servers (4Hours) & Buffet Tables / Buffet Linens
$26.95 per person
Plus Tax & Gratuity
40 Person Minimum – No Exceptions
Items To Upgrade Your Brunch
Omelette Station: $5.95 per person
Hot Pasta (Penne Peppar, Primavera & Orrechette): $3.99 per person
Sliced Whole Turkey Breast: $5 per person
40 Person Minimum
Come Visit Us
Address:2147 Albany Post Rd, Montrose, NY 10548
Phone:(914) 737-7737
Email:  colesmarket@optonline.net